The first thought you'll get after baking this gluten-free buckwheat bread most likely will be, "I LOAF IT! (said in a British accent), never imagined that baking the loaf of bread is that easy!" 
After I went for a gluten-free and sugar-free diet, I faced one problem – I can't make my favorite avocado toast for breakfast. It was because of the things sold in the grocery store. If the bread is gluten-free, it has sugar and, if it's sugar-free, it contains gluten, or it complies with the requirements but is very expensive. So I decided to make the bread by myself.
After a few attempts to make buckwheat bread, I had some trouble, so I want to share this trouble-proof perfectly polished recipe with you!
I also want to share with you the most common mistakes, so you could avoid making it:
Over-mixed dough. Solvation: ingredients must be combined well, but the mixture doesn't have to be silky smooth.
Unsoaked buckwheat groats. Solvation: Soak unroasted buckwheat groats for at least 6 hours or overnight
Too high baking temperature. Solvation: Bake it on 160 degrees Celsius.
Bread baking time – too short. Solvation: Bake it for 1 hour and 20 minutes.
Cooling it on the flat surface. Solvation: Let it cool on the wire rack.
Slicing the bread before it has cooled down. Solvation: Let it cool down completely.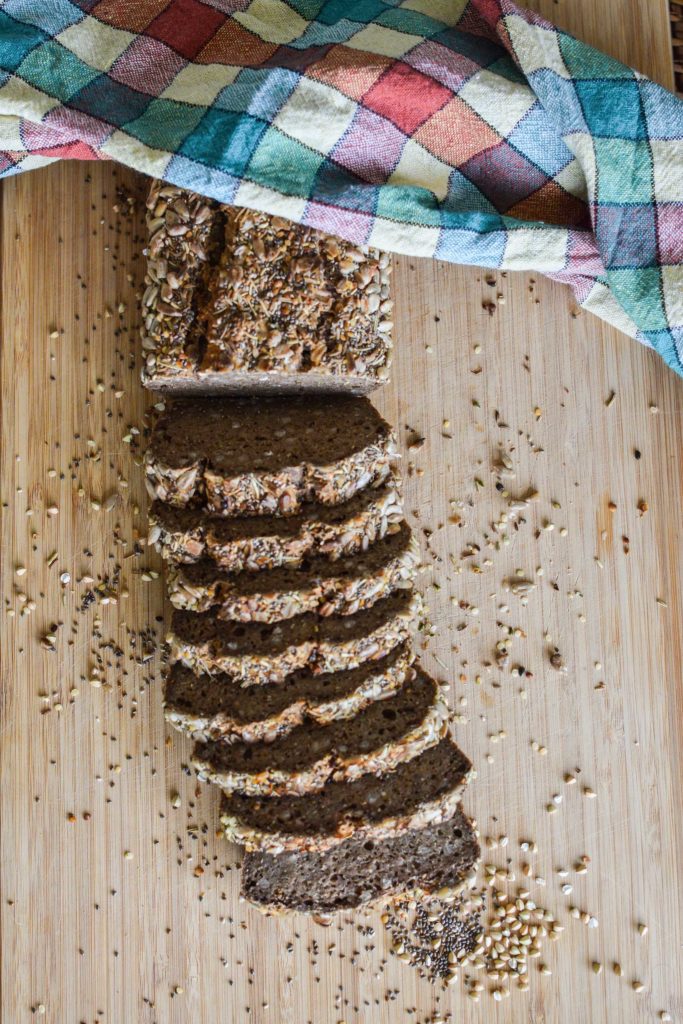 Why is this gluten-free buckwheat bread is so good?
It's vegan, vegetarian-friendly.
It is free from added sugars, gluten, yeast, and oil.
It doesn't require a lot of time to make it.
You can make it with just one bowl.
No kneading. So, that means you can invest your energy into things you love! (this is bad if you love to knead the dough, like me, haha)
It's cheap! This buckwheat bread is a money saver.
Tasty!
We are not over yet let's talk about the benefits from this loaf to our health (according to The Healthline and The Medical News Today):
Plant-based proteins
Fiber
Vitamins: thiamin, riboflavin, niacin, folate, vitamin K, and B6. Also, minerals: potassium, phosphorus, magnesium, calcium, and iron.
Non-starchy carbs.
Gluten-free, so if you don't tolerate gluten, this bread entirely made for you.
Okay, enough talks, let's do this!
Print Recipe
Gluten-free Buckwheat Bread
Ingredients
You'll need:
300

g

unroasted buckwheat groats

50

g

chia seeds

180

g

water

for chia seeds

250

g

water

40

g

applesauce

(you can use oil if you don't want the lighter bread)

½

tsp

baking soda

1½

tsp

baking powder

1

clove

garlic

(can be substituted with 1 tsp of garlic powder)

2

tsp

salt

1

tsp

caraway
Optional ingredients/spices
2

tbsp

nutritional yeast

rosemary

seeds

(sunflower, poppy, chia, pumpkin, sesame, flax)
Instructions
You'll make it like this:
Soak unroasted buckwheat groats for at least 6 hours or overnight.

Mix chia seeds with 180 grams of water. Set it aside for about 10 to 15 minutes. You'll get jelly consistency mass.

Drain soaked buckwheat groats. Add half drained groats and all other ingredients into your blender or food processor. Blend till everything is combined, but don't overmix. Then add another half of buckwheat groats and mix it a little bit. (Your dough does not have to be silky smooth consistency).

Preheat your oven to 160°C, while the oven is heating up, grease your loaf pan and line it with parchment paper.

Pour the dough into the loaf pan, then a few times lightly knock it into the hard surface, so that air bubbles could come out of the dough. Sprinkle some toppings, like seeds, nuts, or spices.

Place your bread into the oven and bake it for 1 hour and 20 minutes. Then take it out and let it cool down completely before slicing it. That's it, now – enjoy!
If you tried this recipe, please write a comment about how it was! Or publish a photo with a hashtag #greatinthekitchen, that would mean a lot for me! Plus, you can follow my recipes on Instagram and Pinterest!
LOAF YOU & see you soon,
Geiste ♡