Oh my! Even the thought of these vegan cinnamon rolls makes my mouth watery. It's so good that one is just not enough. I love making these vegan cinnamon rolls to my family and my friends. The reason why is cause it has a hidden vegetable, plus contains more protein (not powdered one) than usual cinnamon rolls, so it makes this recipe more nutritious and healthier. In my opinion, you must give the best you can get to your closest people.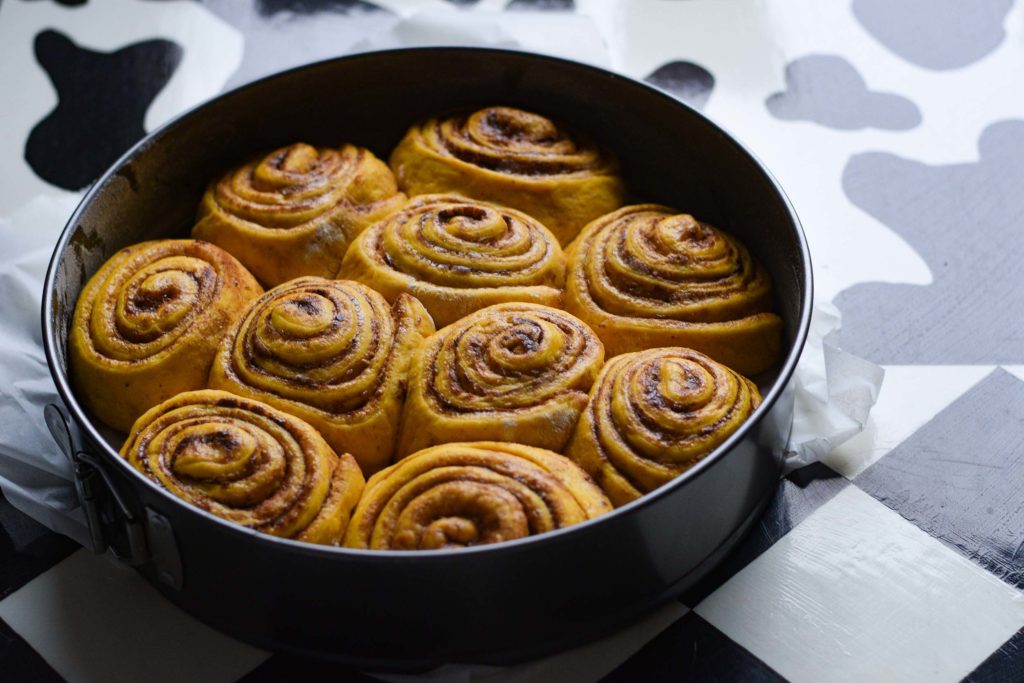 Revealing the secret of hidden vegetable
I think I don't need to tell that vegetables are great food, but I must present what I planted in the recipe of cinnamon rolls. The hidden vegetable is pumpkin. I researched benefits that this plant gives to our body, and I want to share it with you:
Rich in minerals and vitamins – A, C, E, and potassium
Contains a lot of water
Low in calorie food, so it's good for weight loss
Antioxidant-rich
Source of fiber
Adding plant-based proteins to make it healthier
Talking about icing. The usual icing for cinnamon rolls is just sugar, few drops of lemon juice, and soy milk. I thought – this recipe contains nothing more just sugar. I had a desire to make a change, so I grabbed silken tofu and mixed it into the icing. This action added some protein into the icing recipe, so these calories you get by enjoying these vegan cinnamon rolls wouldn't be as empty as you would get from the usual cinnamon roll with icing. Another amazing thing in this icing recipe that it contains less sugar; I mean 1x less sugar. It's able to make this swap in this recipe, cause silken tofu adds mass to the icing, and that half portion of sugar is more than enough, trust me. You can check the nutrition facts of usual cinnamon roll icing (on the left) and healthier one (on the right).
Okay, enough talks let's go to the recipe!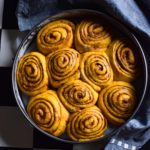 Print Recipe
Vegan Cinnamon Rolls
Comfy delicious dessert to warm your soul.
Ingredients
Dough
80

g.

dairy-free milk

30

g.

olive oil

130

g.

pumpkin pure

50

g.

brown sugar

(you can use other sweetener)

30

g.

fresh yeast

(or 7g. instant dry yeast)

1

flax egg

(1 tbsp. ground flax + 2.5 tbsp. water)

340

g.

flour

(I used spelt flour)

½

tsp.

salt
Filling
7

tbsp.

coconut oil or dairy-free butter

(room temperature)

130

g.

brown sugar

3

tbsp.

ground ceylon cinnamon

¼

tsp.

salt
Icing
1

cup

powdered sugar

2

tbsp.

dairy-free milk

1

tbsp.

lemon juice

250

g.

silken tofu
Instructions
Making a dough
In a small bowl mix ground flax seeds and water. Set aside for about 10 minutes till you get thick mass.

Warm milk just a little bit (no more than 40°C, hotter temperature would kill the yeast) , mix it with sugar and yeast and set aside it for about 5 minutes.

In a large bowl sift flour and mix all dry ingredients for the dough. Take another bowl, mix all wet ingredients, and then mix together wet and dry. Knead dough until it becomes a smooth ball (add flour if there is a need).

Grease big bowl, add the dough, cover it with kitchen towel and leave it in a warm place for an hour.
Making the filling
Mix coconut oil or dairy-free butter with sugar, cinnamon, and salt till it's well combined. You should get the paste consistency.
Making the icing
Mix all the ingredients with a mixer until all lumps disappear.
Making Cinammon rolls
After the dough has risen double the size, transfer it to a well-floured surface and roll out into a 0.5-0.7cm thick rectangle.

Evenly spread the filling on all the dough, roll it up into a cylinder and divide it into 10 even cinnamon rolls.

Place cinnamon rolls into the greased and floured or parchment paper-lined baking pan. Leave rolls in a warm place for about an hour. Heat the oven to 180°C.

Put risen cinnamon rolls into the oven and bake for 35-40 minutes.

When the cinnamon rolls are done let it cool down for at least 10 minutes, then spread the icing and enjoy!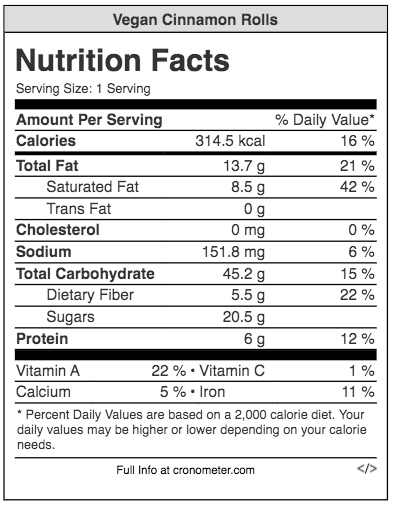 *Nutrition facts of one roll without the icing.