Vegan Coconut-Cauliflower Curry recipe requires only one pot, which means – no big mess in the kitchen, and about 30 minutes of your time. This tasty, nutritious meal is a combination of vegetables, spices, legumes, and coconut milk. It could be a warming lunch or dinner for you and your family.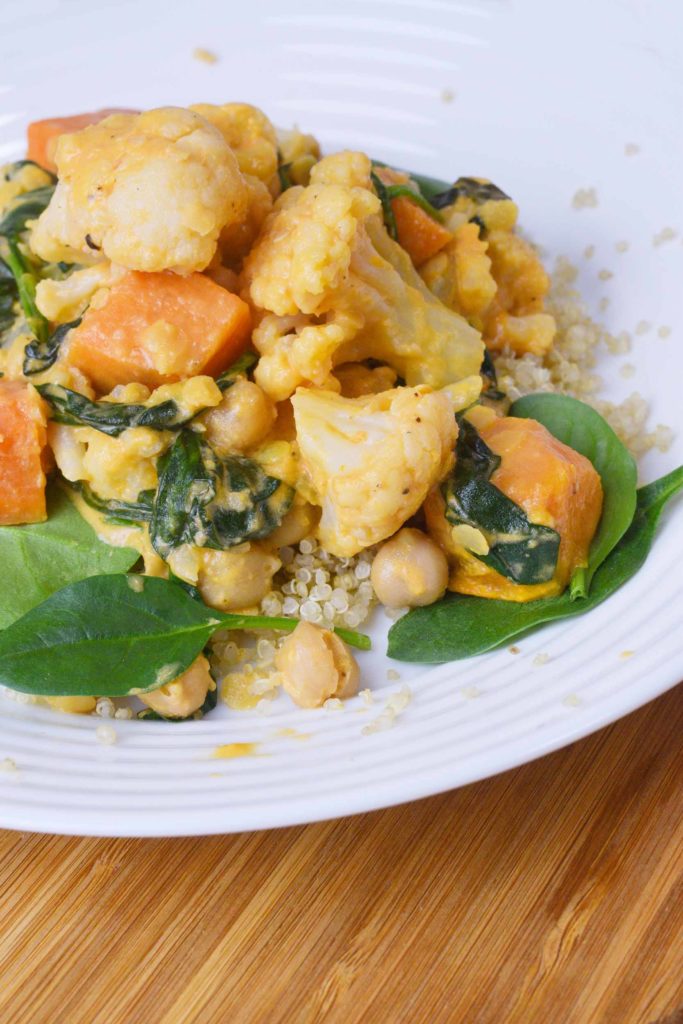 Why you should love making curries? The main reasons:
The taste is marvelous. Coconut milk gives curry a creamy, velvety texture, and the spices activate every taste in your mouth. I must tell you, it's hard not to swallow your tongue while eating this coconut-cauliflower curry.
It's an affordable meal. The ingredients are not expensive, and there is a possibility that you already have some of them in your pantry.
It is easy to make. This curry is an excellent meal choice when you're don't have a lot of time or simply don't want to spend it in the kitchen.
It's a healthy and nutritious meal. Coconut-cauliflower curry is packed with vegetables, legumes, and healthy fats. This means that you will nourish your body with fiber, plant-based proteins, minerals, and vitamins.
Less waste. When it comes to making curries, usually you can improvise with the vegetables that you already have in your fridge. You can try to add something new even into this coconut-cauliflower curry recipe, just don't forget to share your unique combinations with me!
Take-away. You can definitely put this recipe into your meal preparations list. When you bring this curry to your work or class all you need to do is just warm it up and ENJOY!
I believe that this vegan coconut-cauliflower curry recipe will take your taste buds straight to India. To enjoy the trip we should jump to the recipe: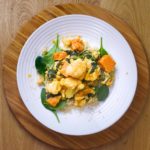 Print Recipe
Vegan Coconut-Cauliflower Curry
Spicy, creamy, nutritious, comforting meal!
Ingredients
1

small head

cauliflower

(~250g.)

1

can

coconut milk

(light)

1

medium

onion

1

medium

sweet potato

(~150g.)

1

cup

chickpeas

(cooked)

1

cup

red lentils

(cooked)

200

g.

spinach

1

tbsp.

tomato paste

1-½

cup

water

2

tbsp.

olive oil

(for cooking)
Spices
1½

tsp.

salt

(I use himalayan)

⅓

tsp

ground black pepper

1

tsp.

curry powder

½

tsp.

sweet red paprika powder

¼

tsp.

cayenne powder

⅓

tsp.

cumin

cilandro seeds
Instructions
Cut onion into small pieces.

Take a large cooking pot, put it on low heat. Add 2 tablespoons of olive oil and cook onions till it's golden.

Chop cauliflower, sweet potatoes into bite-size pieces.

Add tomato paste, spices, and sweet potatoes into the cooking pot mix it very well. Cook it while mixing for few minutes on medium heat.

Add coconut milk and ½ cup of water and let it boil undercovered for about 8 minutes.

Add cauliflower and spinach and boil undercovered for 8 minutes more.

Add legumes: red lentils and chickpeas and mix it very well

Serve it with some grains. I highly recommend quinoa! Enjoy!
If you tried this recipe, please write a comment about how was it or publish a photo with a hashtag #greatinthekitchen, it would mean a lot for me!
Also, you can follow my recipes on social media: Instagram and Pinterest.
Best wishes, Geiste!