Eat zucchini spaghetti to forgetti your regretti. Haha, funny! But honestly, this is the best recipe if you want to indulge in something very delicious, but also want to feel light after your meal. You can use this recipe like a side dish too!
Why you should love this recipe:
super-easy to make
delicious
creamy
comfy
it will leave you feeling light
low-carb
healthy
vegan, vegetarian, plant-based and keto-friendly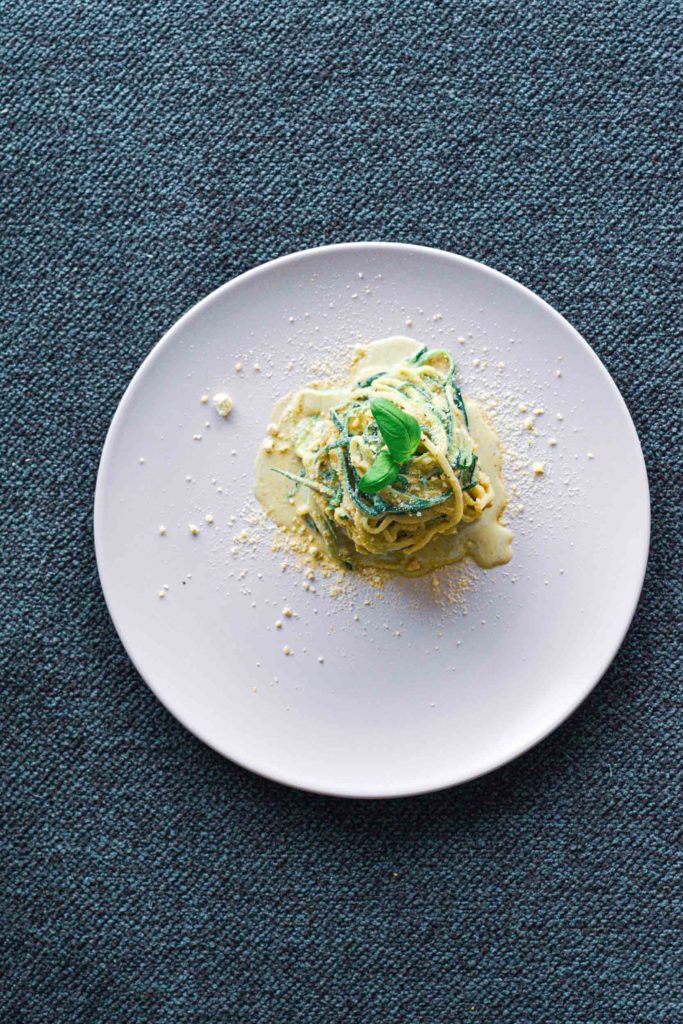 Also, you'll get many nutrients from:
Cashews: Vitamin E and B6; Folic acid, Potassium, Copper, Phosphorus, Zinc, Magnesium, Iron, and Selenium (according to Healthline).
Nutritional yeast: Vitamin B1, B2, B3, B6, and B12 (this one can be a problem for a vegan); Potassium, Calcium, Iron also rich in protein and fiber (according to Healthline).
Zucchini: vitamin A, C, K, B6, and B1; Manganese, Potassium, Magnesium, Folate, Copper, Phosphorus (according to Medical News).
I think after I publish this blog post, I gonna make it again. Let's jump to the super-easy, cheesy recipe –
Print Recipe
Zucchini Spaghetti
Ingredients
½

medium

Zucchini

(spiralized without seeds)*

3

tbsp

Cashew cream**

2

tbsp

Nutritional yeast

One

clove of

Garlic

Salt and pepper

(to taste)
Instructions
Mix the sauce from cashew cream, minced garlic, salt, pepper, and nutritional yeast.

Spiralize zucchini, stop spiralizing when seeds show up.

Put your pan on the high heat.

Cook spiralized zucchini on high heat for about 2 minutes, always stirring. Then mix in cashew cream, turn off the heat and serve!